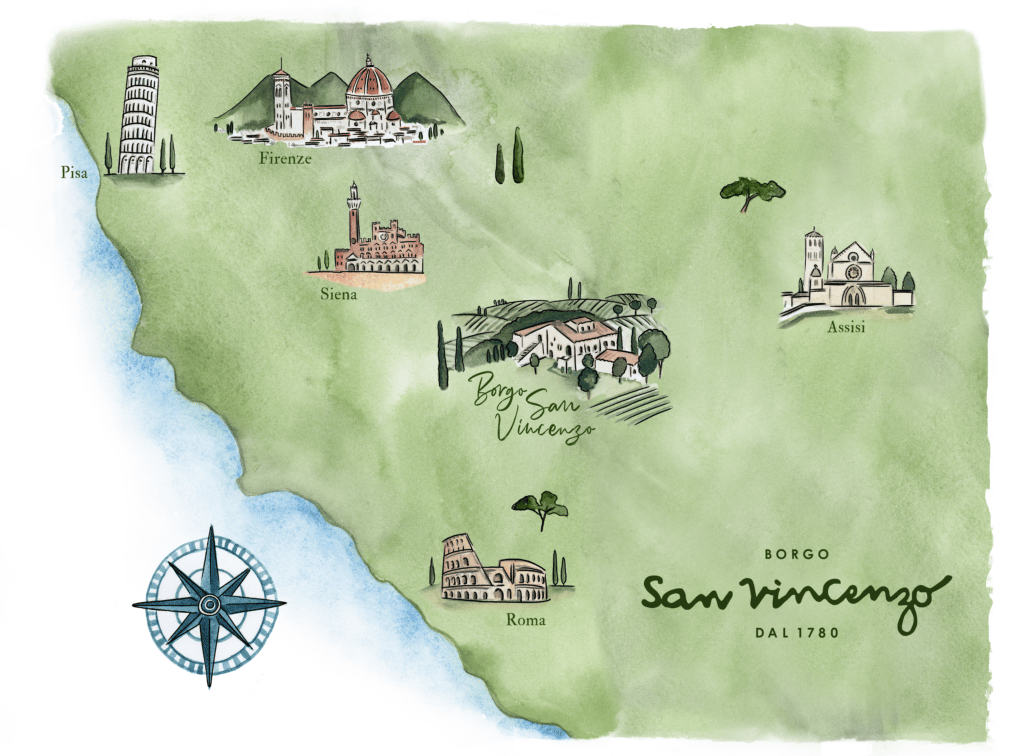 By Air + Car
Flights are available for domestic and international passengers for transit to nearby airports.
Rome (FCO): 200km, approximately 2 hours driving
Florence (FLR): 124km, approximately 90 minutes driving
Perugia (PEG): 67km, approximately 1 hour driving
Bologna (BLQ): 220km, approximately 2 hours, 20 minutes
One of Italy's most beloved regions, Tuscany offers dreamy panoramas and landscapes; medieval hilltop towns, endless vineyards, fields of sunflowers, and cypress-lined drives. Part of Tuscany's allure is the ability to explore and get to know the charm of each individual enclave. Borgo San Vincenzo offers complimentary parking and encourages guests to rent cars to be able to explore the charming hilltop towns that surround the Borgo. Please see our guide to neighboring hilltop towns for inspiration.
By Train
Chiusi-Chianciano Terme is the closest train station to Borgo San Vincenzo and is reachable by fast train from Roma Termini in approximately one hour. You can find train options at TrenItalia.
Transfers
Transfers can be arranged from regional airports upon request. Please email our Experiences Team for assistance with coordinating transfers to and from Borgo San Vincenzo.
---