Sagra del Tordo in Montalcino
October 29 @ 8:00 am

-

October 30 @ 5:00 pm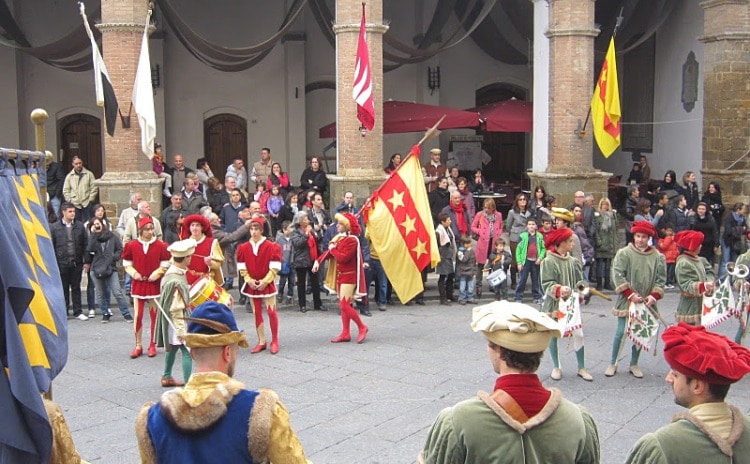 Since 1958, every last weekend of October – this year from October 29th to 31st, 2021 –  Montalcino, in the Province of Siena, celebrates the Sagra del Tordo, the "Song Thrush Festival".
This event, which reached its 63rd edition in 2021, originates from the ancient hunting tradition of these areas, where the migratory flow of birds from the North, and in particular of thrushes, has always been very intense.
In the Middle Ages, when hunters and falconers returned to their villages laden with prey, it was customary to organize parties in which nobles and people participated together. Men measured themselves in jousting, while women prepared large banquets with the game and local wine.
The archery competition is the most important moment when the representatives of the 4 districts of Montalcino, challenge each other and are recognizable by the colors of their costumes: Borghetto (white and red), Pianello (white and blue), Ruga (yellow and blue) and Travaglio (yellow and red).
On Saturday afternoon, the archery tests are taking place, and a historical parade made up of 150 figures, with costumes inspired by medieval ones, goes through the streets of the town, decorated for the occasion with the flags of the four districts.
Sunday morning there is the blessing of the Archers and the departure of the Big Historical Parade. At 12.00 the auctioneer formally declares the Thrush Festival open, and some thrushes are released in flight (Green Pass required).
In the afternoon the archery competition takes place, (reservations are required at the districts)
The winning district collects a silver arrow, and celebrations will continue throughout the winter, with the defeated districts mocked by the winners with songs and jokes.
During the festival, at the four districts you can taste typical dishes and products of the Siena area: pappardelle with wild boar, pici al sugo, mushroom soup, bread soup, quail rotisserie, fried polenta, red tripe, and much more. All, of course, accompanied by the famous wines of Montalcino.